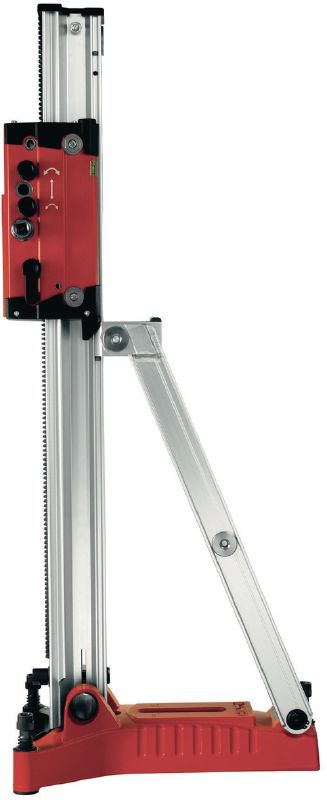 Move cursor over image to zoom.
Click on image to zoom.
Drilling stand DD-HD 30
New product
Item #2148548
Drill stand for heavy duty Hilti coring machines (see technical data for tool compatibility)
Fixation mode: Anchor and vacuum (optional)
Angular coring: Yes
Column extension: Yes
More technical data
Review
Features & Applications
Drilling stand DD-HD 30
#2148548
Features
Built-in fine feed – making drilling less tiring during sustained operation
Angular drilling – easy, stepless adjustment up to 45°
Comprehensive range of accessories available – such as vacuum pads, spacers, cross column, jack screws and fastening kits
Easy set-up – tool-free quick-connection of drive unit
Applications
Drilling range up to 300 mm diameter without spacers
Drilling range up to 600 mm diameter with spacers
Can be fastened by anchor, using the optional vacuum pad or with the jack screw
Services
Hilti Tool Service
A warranty that goes further
Servicing is free of charge for up to 2 years, including wear and tear, pick-up and delivery
Product warranty against parts and manufacturing irregularities for 20 years
After 2 years repair costs are capped
3-month no-cost period after each paid repair
Exclusive use of genuine Hilti spare parts
More information about Tool Services
Fleet Management
We manage your tools so you can manage your business.
Monthly usage fee covering all tool, service and repair costs helping to ensure absolute cost control and back-office efficiency.
Theft coverage helps to reduce financial risk and unexpected expenses.
Loan tools during repair to reduce downtime.
Individual labels and online visibility provide tool fleet transparency
More information about Fleet Management
Technical Data
Drilling stand DD-HD 30 #2148548