BX 3-ME CORDLESS FASTENING TOOL
The world's first battery-actuated fastening tool for use on concrete and steel.
Slide in the nails, fit the battery, and switch it on. That's it, you're ready to go!
The Hilti BX 3-ME is the first of its kind - a revolutionary new battery-actuated direct fastening tool for use on concrete and steel. Combining the power, quality and safety of conventional fastening systems with all the advantages of cordless technology, the BX 3-ME makes fastening more efficient and less tiring. The tool is also virtually free of dust, recoil and vibration, ideal for specialists in the mechanical and electrical trades.

Check out the BX 3-ME in action
FIVE TIMES FASTER
Compared to fastening with traditional anchor systems, repetitive installation work with the BX 3-ME couldn't be quicker. Thanks to the tool's powerful 22 volt Lithium CPC battery, up to 600 nails can be driven with a single charge. Fitted with the pole extension, the BX 3-ME also takes the effort out of fastening overhead - even in repetitive tasks.

Innovative Technology
The BX 3-ME is driven by a motor that tensions two springs by way of a band system. Sudden release of this tension is what drives the fastener, meaning that very little pressure is required by the user, even as the nail is driven reliably and securely by a perfectly metered thrust of driving energy.

PERFECT FASTENING THE FIRST TIME
Optimised nail geometry ensures the highest quality fastening without any concrete spalling, allowing you to work fast and avoid interruptions.

RELIABLE ON ALL MATERIALS
The BX 3-ME is the perfect tool for any surface, taking concrete and steel in its stride. It also makes short work of installation tasks on other materials such as solid brick or sand-lime block.

BX 3 in action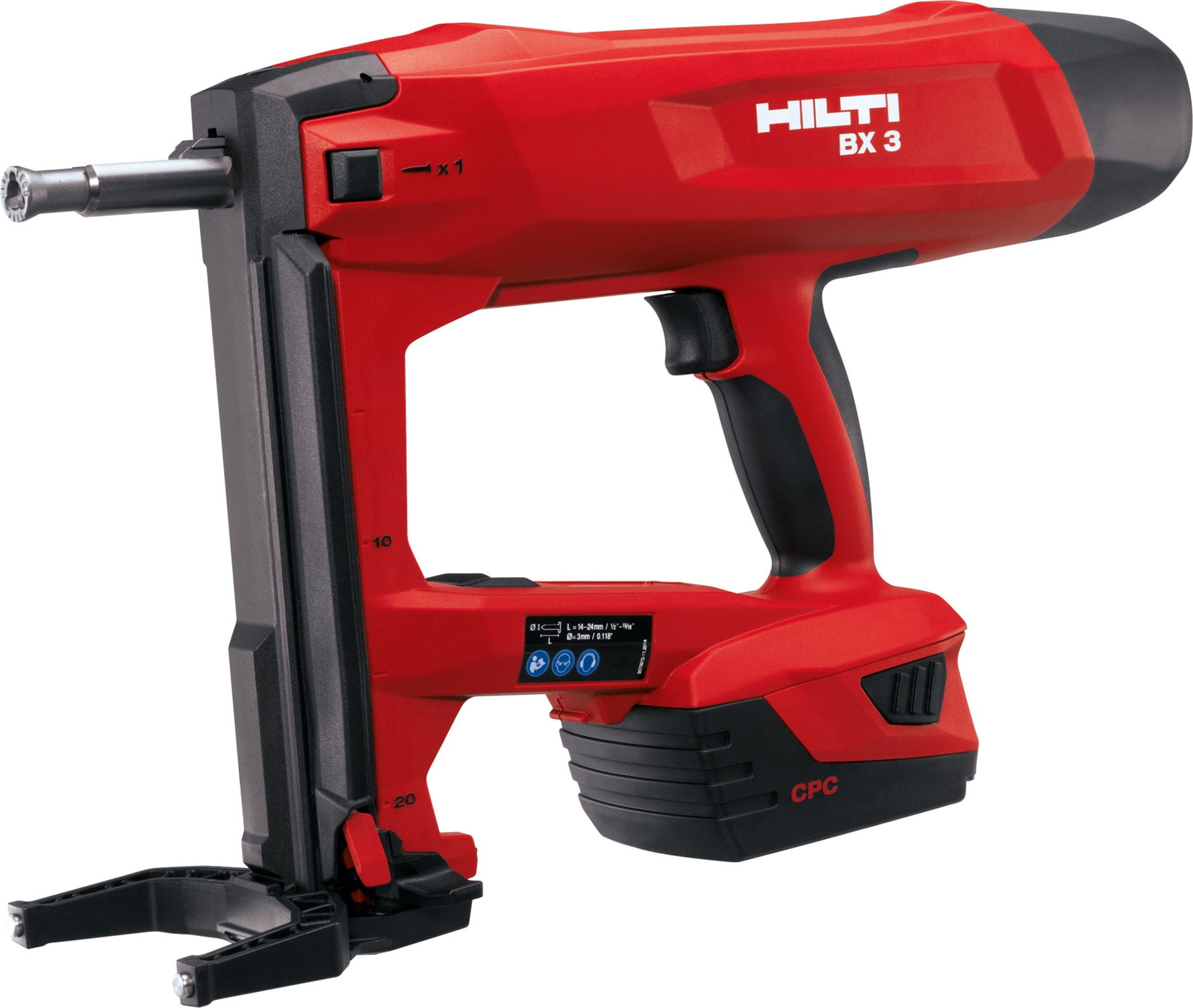 Off a single charge
Drives up to 600 fasteners with a single battery charge (B22 - 5.2 Ah)
Balanced
Well balanced for overhead applications
Fastener intake capacity
Fastener intake capacity
Combustion
Combustion-free operation, no disposal of used propellant cartridges