Constant water supply and a clean jobsite during drilling
The new way of drilling with the DD-WMS 100 Water Management System
Diamond drilling is a safe and efficient way to make clean openings in any base material, but it does take quite some time to get set-up and then there's the clean-down to think of when you're finished. In fact, the time it takes to actually do the drilling may be one of the shortest steps in the process!
Keeping the jobsite clean, maintaining a constant water supply, and disposing of slurry often occupy much more of your time. With our new DD-WMS 100 Water Management System, these tasks become a thing of the past.
Thanks to the recycling mode, you can drill for a full day with just one load of water and the slurry is taken care of while you drill. Diamond drilling has never been so quick and easy!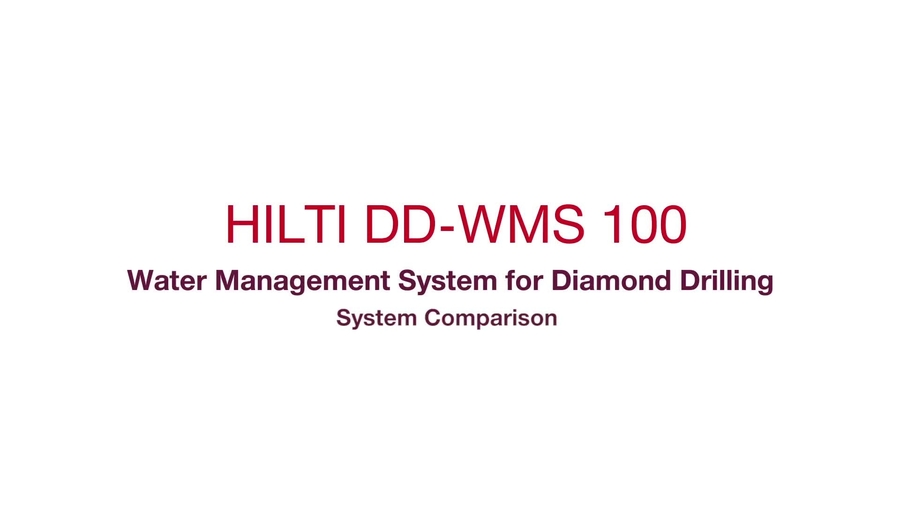 One full day of water autonomy
All you need to do is fill up the water tank and insert a filter bag. As the water is recycled up to seven times, this is equivalent to about 100 litres of continuous water supply. The large wheels and convenient handle bar also make it easy to move the DD-WMS 100 around on the jobsite. 
Clean drilling
Dust and slurry often lead to additional labour time spent on cleaning up, decreasing your jobsite productivity even further. With our range of water collection accessories for diamond drilling tools, we can help you save time and money.

Diamond drilling is no longer a messy job!

Easy slurry disposal
Once the filter is full and suction power begins to drop off, it's extremely easy to remove the slurry with the disposable filter bags. 
Here's what our CUSTOMERS THINK
We bought the machine to do some work on the stair well landings of a high-rise on the Gold Coast. Having to do two holes per landing across thirty levels presented problems with water supply and of course cleaning time. The DD-WMS 100 solves both problems by providing water for drilling and also a relatively clean work site once the job is done. Portable enough to carry up and down the stairs it made our job much quicker than running hoses to the various locations. I'd recommend it as a good fit within any diamond coring application.
Matt Grogan
Manager - KwikCut Concrete Drilling and Sawing
3 working modes to suit your applications
Get a FREE demo of our water management system on your jobsite
related innovation for you