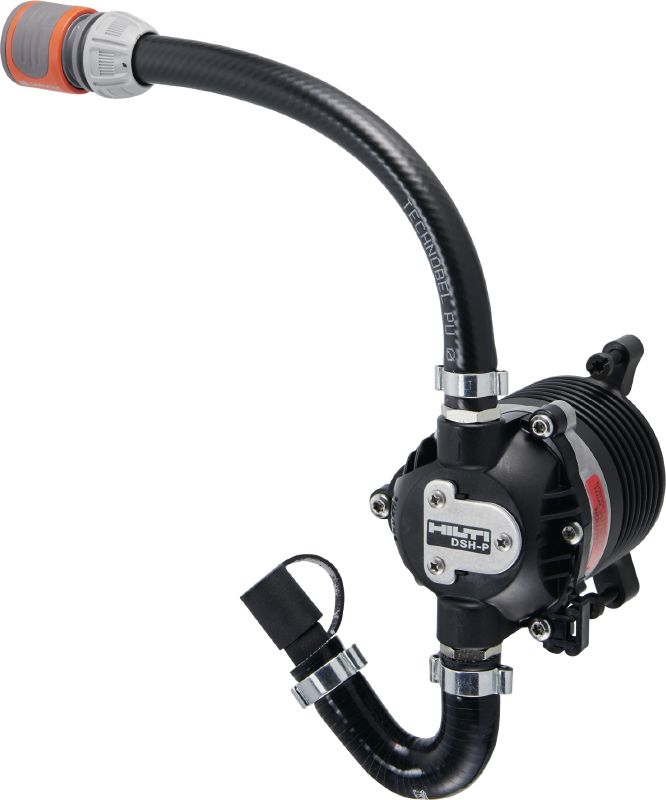 Move cursor over image to zoom.
Click on image to zoom.
Pump DSH-P
New product
Item #2124505
Self-priming pump – used with a dust suppression system when wet cutting with petrol saws
Accessory type: Pump DSH
Product information: DSH-P will add 1,3kg (2.8lb) to the tool weight with an overall pump heights of 130mm (5.1") and a diameter of Ø=113mm (4.4''). The maximum suction lift is up to 1,5m (5 ft) with the included 3.0m (10ft) hose. The hose could be extended to 9.0m (30 ft). Please check that the max. water supply pressure does not exceed 6 bar (87 PSI) and the tightening torque of the fixation screws is 8.0Nm. The water consumption could be up to 1.0 ltr/min (0.264 galon/min) depending on the position of the water valve.
More technical data
Review
Features & Applications
Features
Provides independence from a pressurised water source
No assistant required to suppress dust while cutting with petrol saws when you have no access to a pressurised water source
Can be quickly and easily attached or detached from the DSH-P (only 3 screws)
Fits all Hilti X-version petrol saws
Applications
Laying paving: Cutting kerbstones and paving slabs to size
Road construction: Perimeter cutting in asphalt and concrete
Floor construction: Cutting expansion joints in fresh concrete
Construction work: Cutting out openings in brick or concrete walls
Masonry work: Cutting bricks and blocks to size
Technical Data
Pump DSH-P #2124505
Documents & Videos
Pump DSH-P #2124505